Three week itinerary Philippines
Philippines is a wide country and pretty much complicated to move around. There are 3 main regions and the north one is Luzon where the capital, rice terraces and a few beach destinations are located. The middle one is called Visayas which include all the whale sharks migratory route (Cebu/Donsol) and the touristy beach of Boracay. Palawan, the most beautiful part of the country in my opinion, is constantly in a dispute between the regions of Luzon and Visayas. At last but not least the south region of Mindanao have volcanos, hikes and landscapes but also some muslin conflicts.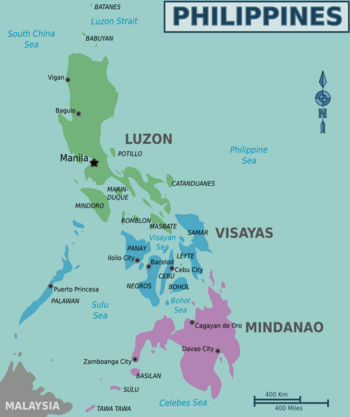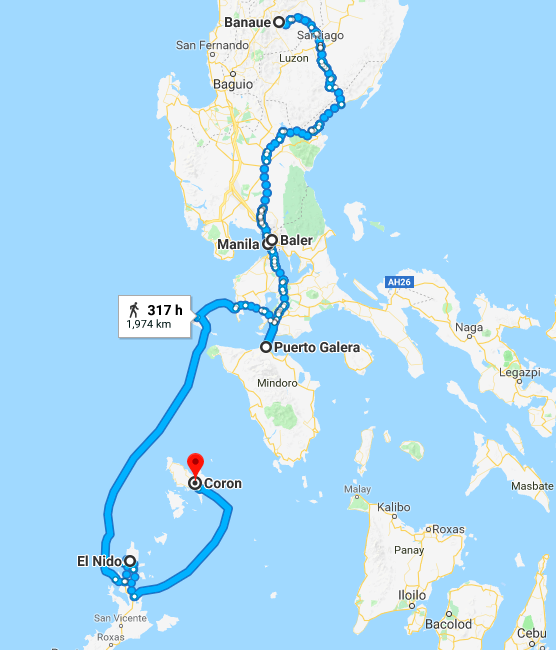 You can either enter the country in Manila or Cebu where you will find the cheapest flights. My route included Manila (Capital), Banaue/Batad (Rice fields), Baler (Surf destination), Puerto Galera (beach destination), El Nido (Boat trips and diving) and Coron (Wreck diving). I also spent 2 weeks volunteering in Tacloban in Visayas region. I skipped Cebu/Donsol but strongly recommend for the experience of swimming with whale sharks. I also skipped Boracay beach, but if you like touristy destinations is a must.
Manila (The capital) (2 days)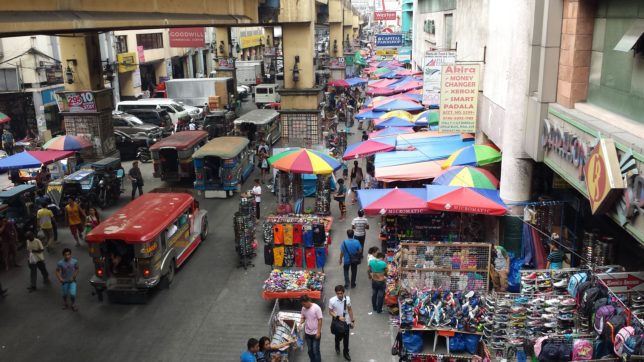 Manila is a busy city, expensive comparing to the average of prices in the countryside, dangerous comparing to the other little towns and not somewhere you would like to spend a lot of time. But anyway it is the capital of the country and you will probably arrive there. I strongly recommend Makati District as the best area to stay. In the main square of Makati a nice food market happens every evening.
Banaue/Batad (Rice Terraces) (3 days)
From Manila you can easily take a night bus to Banaue leaving at 10PM and arriving at 7AM. One of the companies is called Ohayami and you can even book a ticket online for 490PHP (around 10 USD). As you arrive there, plenty of companies will approach you and offer different tours and options.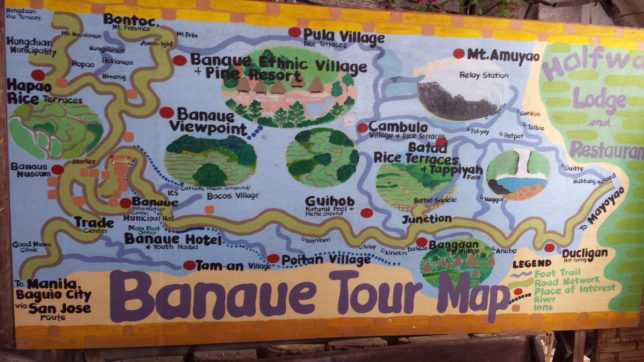 It is also possible to do it by yourself, taking a local transport to Batad Village and talking directly with the guesthouses over there. You mostly can walk around the terraces by yourself as well.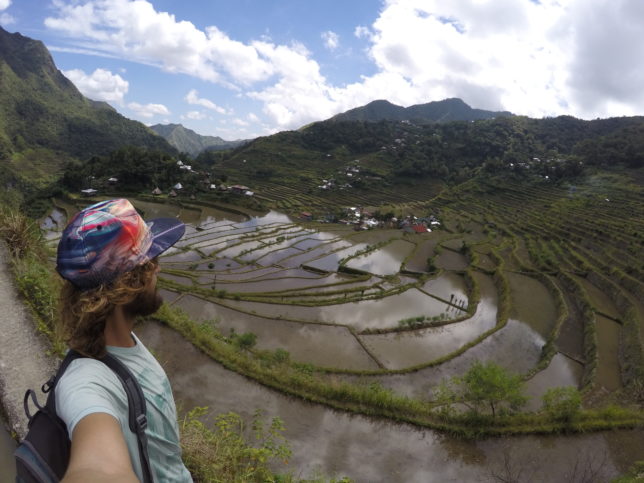 Baler (2 days)
In case you like surfing, including the city of Baler in your route, located 6 hours away from the capital, might be a good decision. There are surf camps there or you can just rent surfboards in the beach. Be aware not to go there in the Philippine vacation period because it might be overbooked, since it is a holiday destination for the people in Manila. Find accommodation here.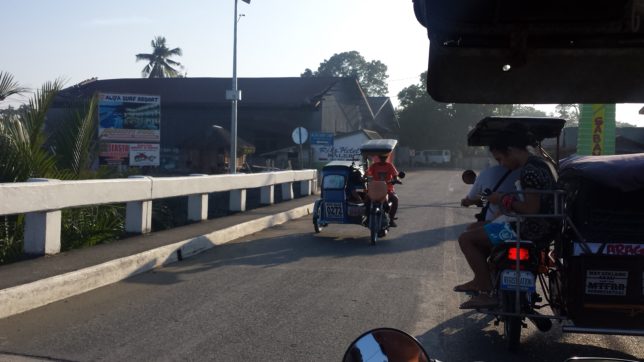 Puerto Galera (3 days)
To reach Puerto Galera you must take a bus from Manila to Batangas then a ferry to White Beach. This beach is very touristy and you will see plenty of locals offering jet sky tours, banana boat, activities, boat trips and others. Also avoid it in holiday seasons because it is a vacationing destination for Philippinos and can get quite crowded. Check here where to stay in Puerto Galera.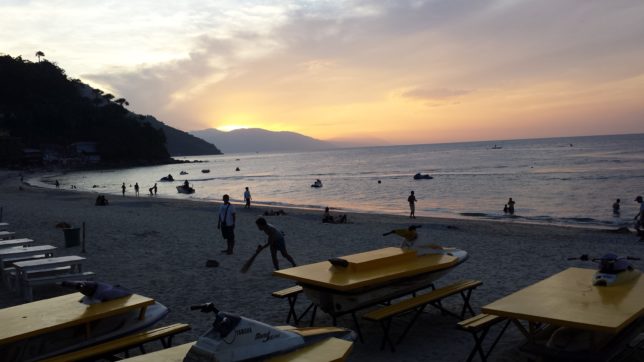 What I do recommend is waiting for the low tide and walking direction west to discover the hidden jams. One of the most beautiful beaches I have seen in the country was walking distance from the busy White Beach. The picture featured in the article was taken in Talipanan Beach. I also did scuba diving with the World's First Not-For-Profit Dive Centre Scuba for Change in Aninuan Beach.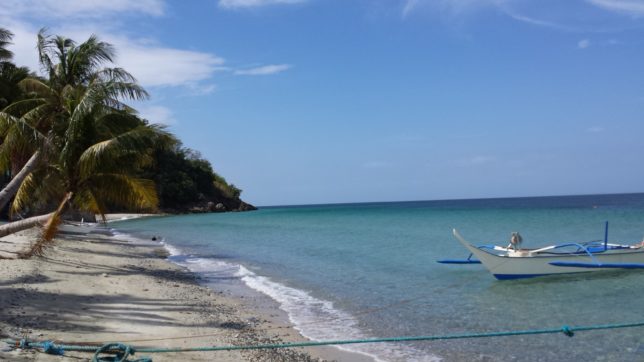 El Nido (4 days)
For me El Nido was the best. Tiny town, amazing boat trips with clear waters and plenty of sea life to admire. Still being discovered by the tourists, Palawan is a hidden jam of the Philippines.
I did great dives over there and also rented a motorcycle to discover a huge amount of beaches that were distributed in the coast of Palawan. Even-tough is a great place, its not super easy to get there. You must fly to Puerto Princesa (Capital of Palawan), then get a shared van to El Nino. Check here where to stay in El Nino.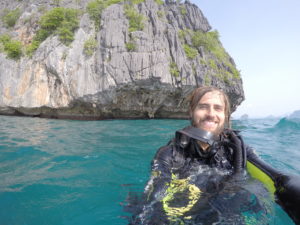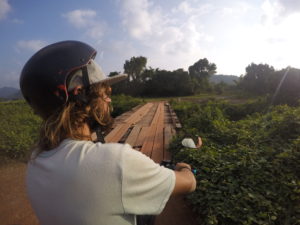 It is also possible to book 3 or 4 days boat trips all inclusive where you camp in some islands and discover pristine beaches around Palawan.
Coron (2 days)
From El Nino I took a boat to Coron, which is one of the best wreck dives destinations in the world. It is known as a place where many World War Ships sunk. I did deep dives with Neptune Diving Center and recommend them. Check here where to stay in Coron.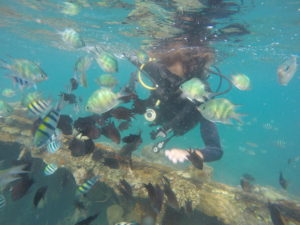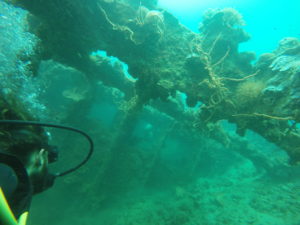 Boracay, Cebu and Bohol (1 week)
Use your last week to explore the Visayas Region. Start in Boracay Beach, the second most visited destination after Manila and stay in one of the resorts available. Swim with whale sharks nearby Cebu City and hike in the Chocolate hills in Bohol.
In case you want to skip the tourist route, you can experience something local, volunteering in Tacloban with All Hands and helping them to rebuilt the community devastated by Typhoons. I chose the second option.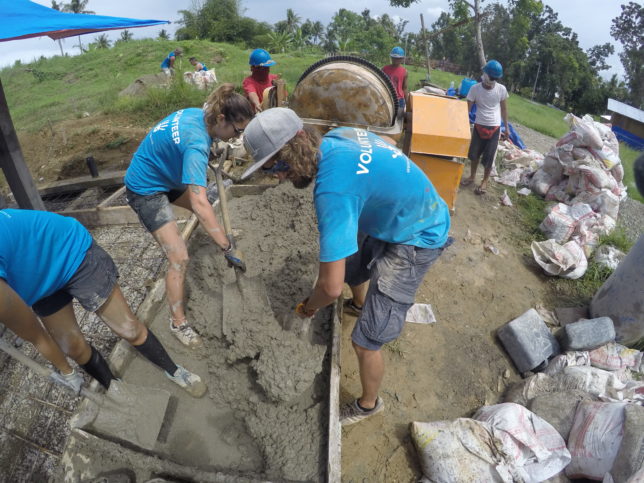 If you like to snorkeling, diving or simply enjoying great beaches you will definitely love the Philippines.