One month Itinerary in China
China is a huge country and you need at least one month to experience the main sights from it. I mostly travelled by train, that is the fastest and cheapest way to move around in long distances. I flew in into Shanghai and flew out from Hong Kong. I payed 90 USD in a low cost flight from Osaka (Japan) to Shanghai (China) with Spring Airlines, that I strongly DO NOT recommend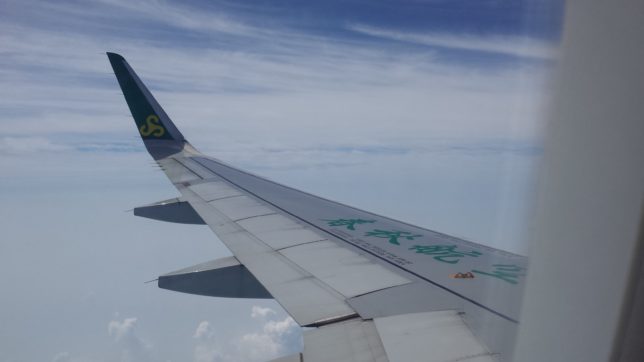 In my route I visited: Shanghai, Suzhou, Beijing, Zhenghzou, DengFeng, Xian, Chengdu, Kangding, Tagong, Guilin, Yangshuo and Guangzhou.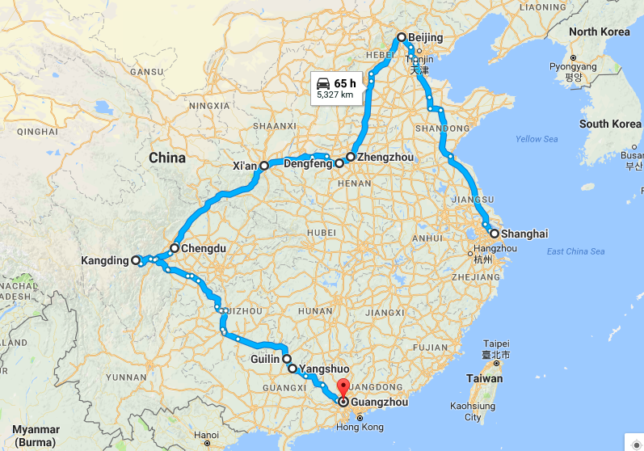 Shanghai (4 days)
Shanghai is the financial capital of China, where most of business men and skyscrapers are. The pollution is so hard that rarely you are going to see a blue and clear sky. I stayed in  Captain Hostel, pretty close to the Bund, a 1,500-meter-long waterside promenade showcasing distinctive modern & colonial buildings.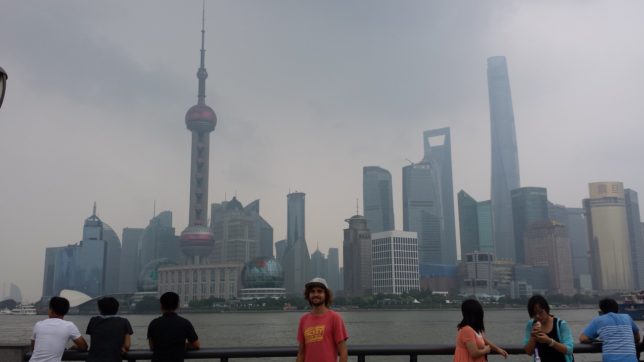 The hostel had a nice rooftop for the night view.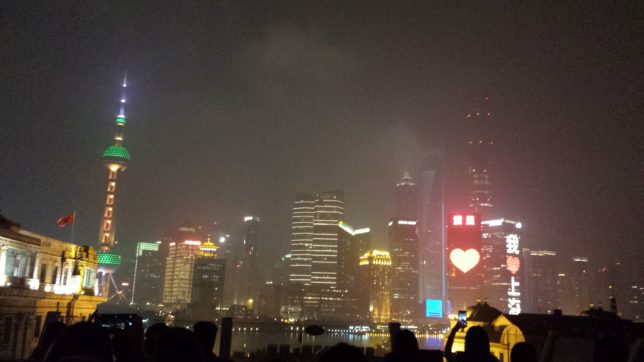 Yu Garden or Yuyuan Garden is an extensive Chinese garden located beside the City God Temple in the northeast of the Old City of Shanghai, China. The district is now incorporated under the name Yuyuan Tourist Mart and plenty of local shops and tourists can be seen around.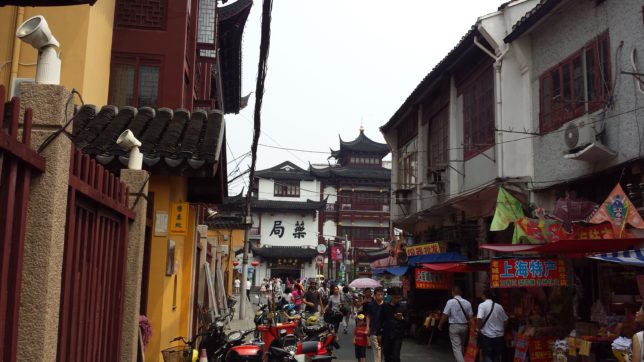 The Longhua Temple is a Buddhist Temple dedicated to the Maitreya Buddha located in Shanghai, China.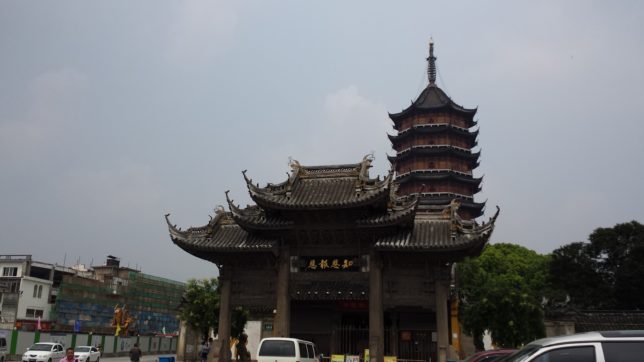 The nightlife in Shanghai is intense. Here you can check 12 of The Best Party Spots in the city.
While in Shanghai its a great opportunity to do a day trip to the city of Suzhou, considered the Venice of china. Located 100km from Shanghai it is a major economic center and focal point of trade and commerce, and the largest city in the province of Jiangsu.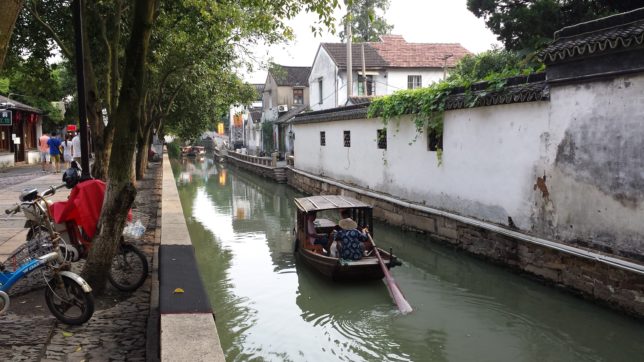 Beijing (4 days)
The bullet train from Shanghai to Beijing was very expensive, but still cheaper than flying. I payed 102 USD using the services of the Fast Train G18 (2nd class). I booked 3 nights in Beijing Sanlitum Hostel for 80 USD.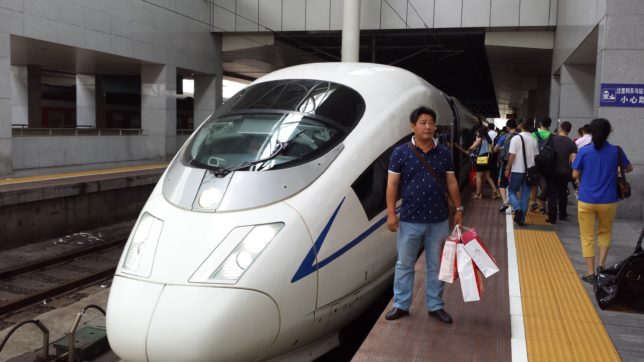 The hostel organized a tour to the Great Wall of China. Currently there are 8 official locations of the Great Wall around Beijing open to visitors, but most of the hostels and agencies will try to sell you one of the 2 main packages, either Badaling or Mutianyu. The first one is extremely touristic since public buses reach this location and is the closer to Beijing. I booked with my hostel for about 500 RMB the Mutianyu tour including a transfer round-trip and lunch.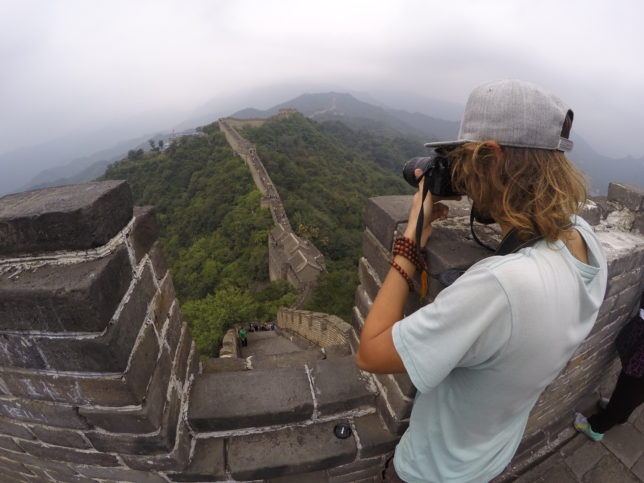 In the UNESCO world heritage list since 1998, the Summer Palace is a vast ensemble of lakes, gardens and palaces and was an imperial garden in Qing Dynasty. The same week I was in Beijing there was a presidential parade, and factories were closed for the entire previous week. It was the first time in many years It could be possible to see blue sky. It was featured in the main newspapers worldwide.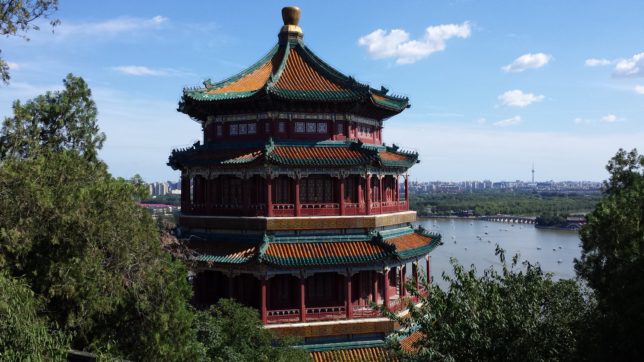 The Forbidden City was the Chinese imperial palace from the Ming dynasty to the end of the Qing dynasty—the years 1420 to 1912. It is in the center of Beijing, China, and now houses the Palace Museum.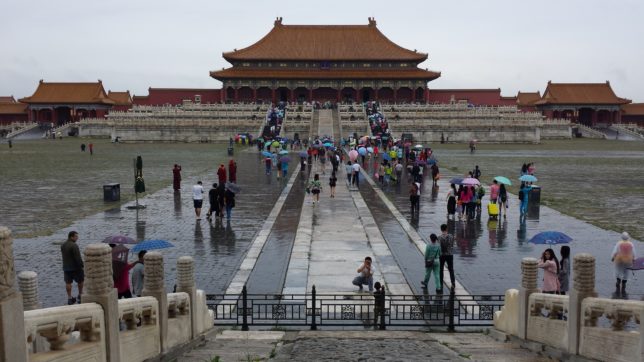 Do not miss to try some unique food such as scorpions in the stick, found in local markets.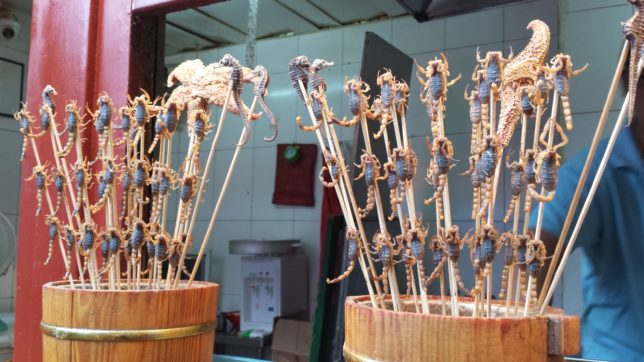 Zhengshou & Deng Feng (2 days)
From Beijing to Zhengshou I payed 40 USD in a normal train 1303, hard sleep. I have payed 25 euros for one night in Jinjiang INN because there was no hostel available in town. I added those two cities because I use to fight Kung Fu and this is where Shaolin Kung Fu was born.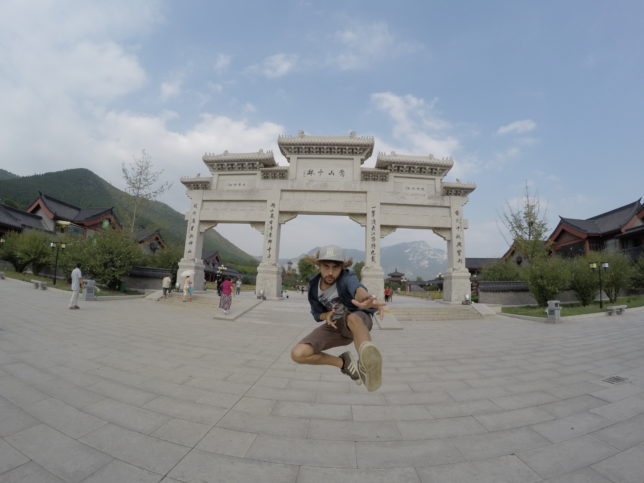 Located in the city of Deng Feng, the Shaolin Monastery, also known as the Shaolin Temple, is a Buddhist temple founded by Fang Lu-Hao, and also used today as school of Buddhism and Kung Fu. The Monastery and its Pagoda Forest are part of UNESCO world heritage list since 2010.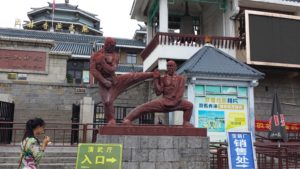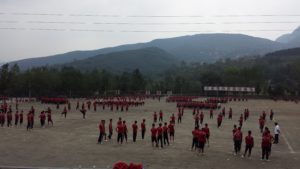 Xian (2 days)
From Zhengshou to Xian I payed 25 USD for a normal train K1131, hard seat. I slept in Alley Youth Hostel and payed 150 yuan for 2 nights. Xian is famous for the Terracotta Warriors, a collection of terracotta sculptures depicting the armies of Qin Shi Huang, the first Emperor of China.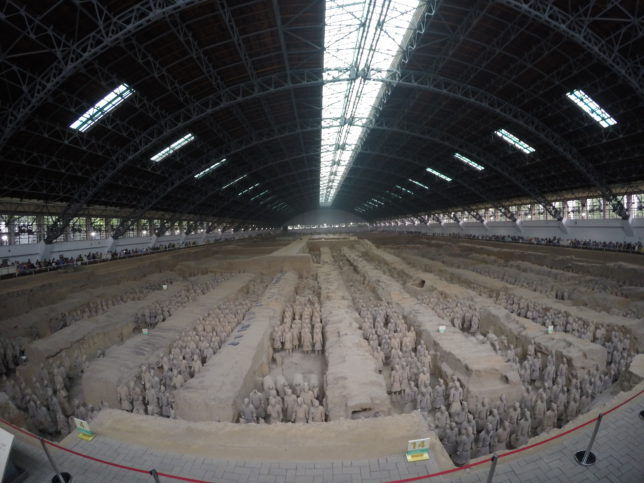 Chengdu (3 days)
From Xian to Chengdu I took the Express train T7, hard seat, and payed 20 USD. I only stayed one night in Chengdu Mix Hostel for 54 yuan and headed to the tibet. On my way back I spend 2 night in the five star hotel Fraser Suites a gift from the parents of my ex-girlfriend.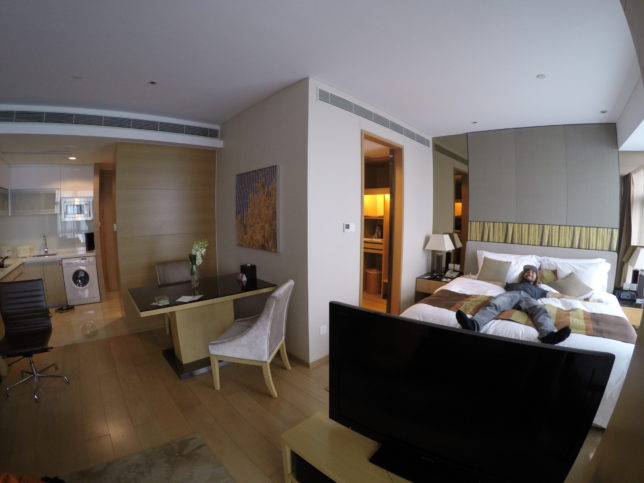 You can not visit China and miss the most adorable creatures in their natural habitat, the pandas. Chengdu Research Base of Giant Panda Breeding, or simply Chengdu Panda Base, is a non-profit research and breeding facility for giant pandas and other rare animals founded in 1987.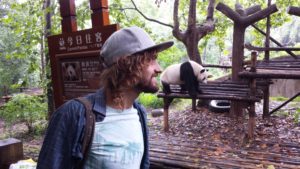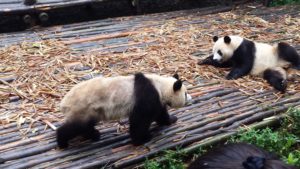 Kangding & Tagong (Tibet) (3 days)
From Chengdu to Kangding I took a local bus in Xiamen Station for 140 yuan. I stayed one night in Kangding in, Konka hostel that I have payed 25 yuan and headed early morning the next day to Tagong. The region of Sichuan has similarities with Tibet but can be visited without a permission. I stayed two nights in Tagong in Jya Drolma & Gayla's Guesthouse, this lovely house in the picture.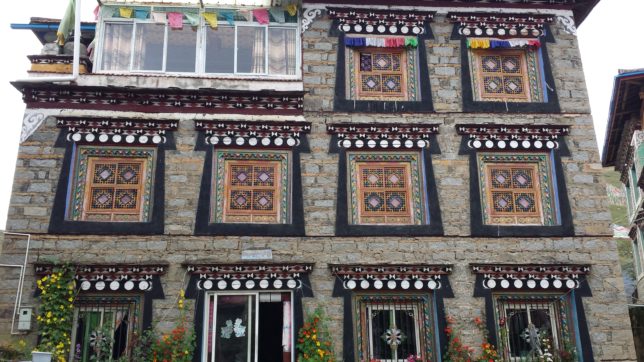 The interaction with local people was pretty special. No English and not even Mandarim, they were speaking the local dialect, same spoken in Tibet. Beautiful temples with gold praying wheels were part of the historical sights.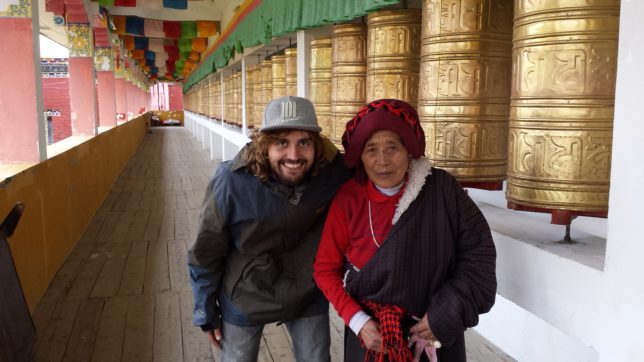 Tagong is a small town in the Tibetan prefecture of Ganzi. Its altitude is at 3700m and is located half way between Kangding and Litang. It is known for senic grasslands and local Tibetan Buddhist culture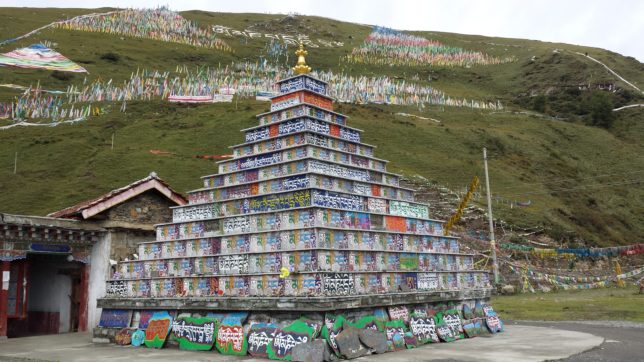 Guilin & Yanghsuo (6 days)
From tibet I headed back to Chengdu to get a direct train to Guilin, the hard sleep cost me 350 yuan. In Guilin I did couchsurfing. Both cities are known for its dramatic landscape of limestone karst hills.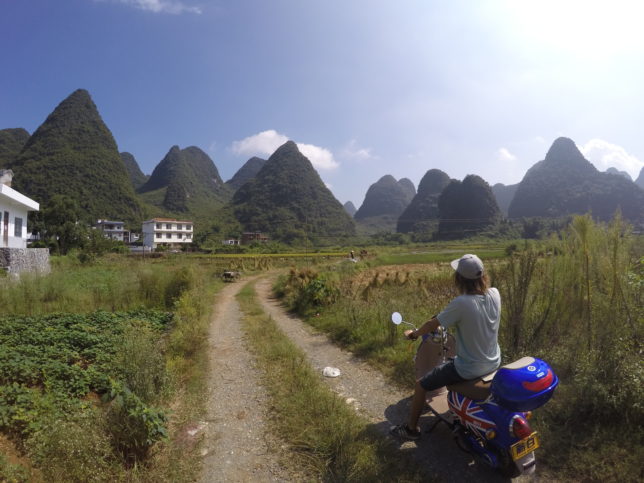 Boats travel through lakes via connected rivers. On Cedar Lake's shore, twin pagodas, the Sun and Moon, light up the sky at night.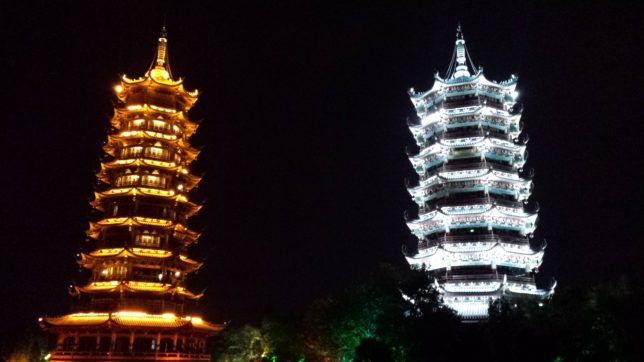 Do not miss the natural mud bath and hot spring!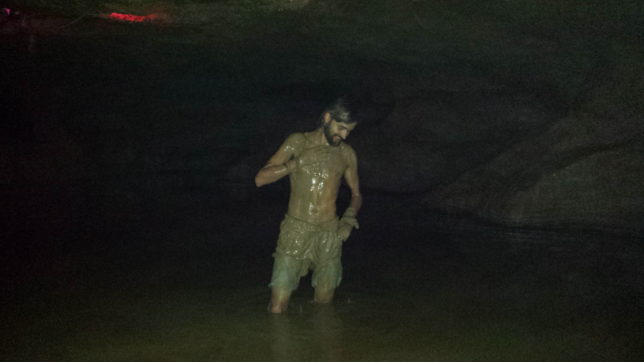 Guangzhou (1 day)
From Guilin to Guangzhou I payed 140 yuan in another train. Over there I took a last train to Zhuhai and crossed the border to Hong Kong.