Crossing the Guianas overland step-by-step
It is pretty straight forward crossing the Guianas overland step-by-step. If you are in Brazil you can either start in Boa Vista (Roraima) or Macapá (Amapá), otherwise you can fly to Georgetown or Cayenne. I used this article as a guide when I travelled the Guianas in 2017.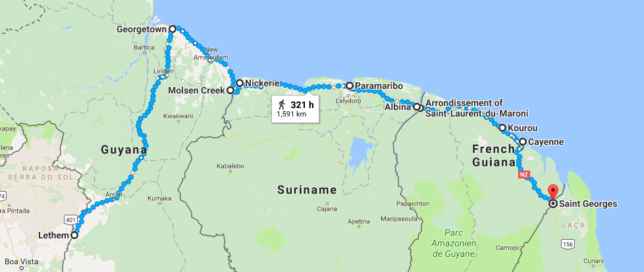 Guyana
Lethem – Georgetown (VAN) – Guyana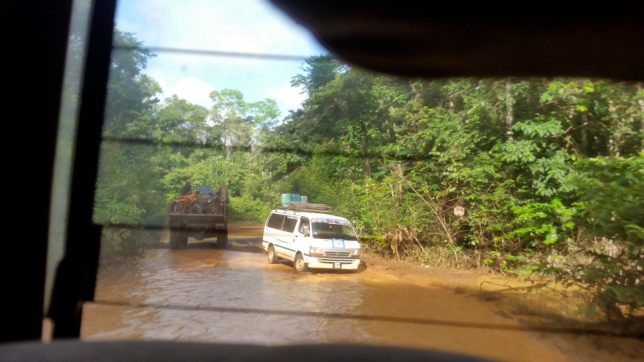 This was so far the most dangerous overland trip of my life after traveling in more then 80 countries. It is a 600km van ride which 400km are dirty road with holes and water pools. I took me 24 hours but the trip can take up to 36 hours. The vans normally leave by the end of the afternoon around 5PM, arrive in Annai by 10PM where the driver and passengers sleep in Hammocks till 3 in the morning from the next day. Then the transport arrive at 5AM in a customs before crossing the river where luggages are checked and passport control made. At 6AM the gates are open and we cross the river. In the border of every state there is a passport control. The normal price is 9000 GYD, negotiable.
Georgetown – Moleson Creek (VAN) – Guyana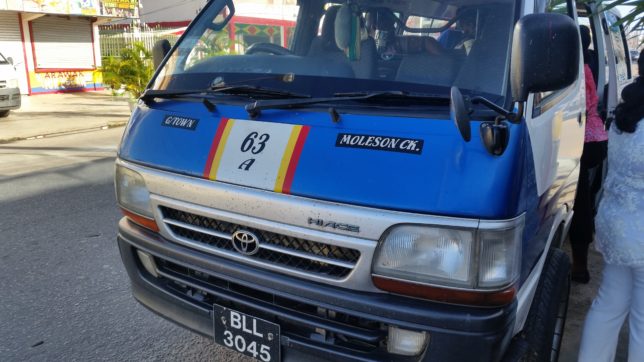 If you want to be on time to take the ferry by the same day you must take this transport between 4 and 5 in the morning. The VAN number 63 leaves from a street near the Stabroek Market. The price for a ride is 2500 GYD (12 USD). If you are staying far from the market is smart to get a number of a driver and ask them to pick you up at home – it is pretty common there. The ride takes about 4 hours.
Moleson creek to Nickerie (FERRY) – border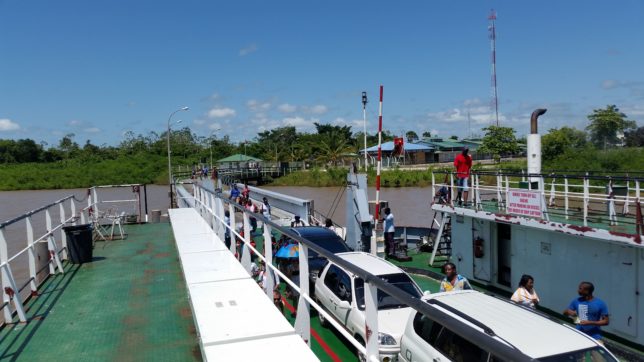 The ferry leaves once a day at 10 AM. If you took the Van in Georgetown around 4:30 AM you will be in the ferry station by 8AM leaving you enough time to purchase the ticket and go trough customs. You can pay either in USD (15) or GYD. Money exchange available in both sides, you can get a reasonable price if you negotiate hard. It is a 15 minutes cross.
Suriname
Nickerie – Paramaribo (VAN) – Suriname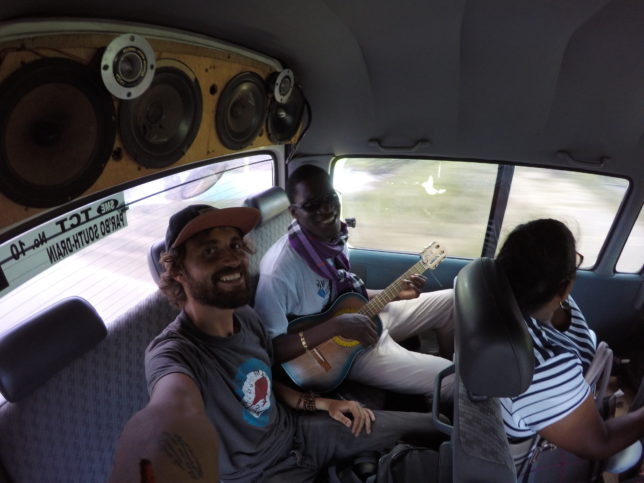 As soon as you leave the immigration a good amount of van and car drivers will offer you a transport service to the capital Paramaribo. The normal price is 100 SRD, negotiable till 70 SRD (the price I got). Takes about 4 hours to arrive there.
Paramaribo – Albina (BUS) – Suriname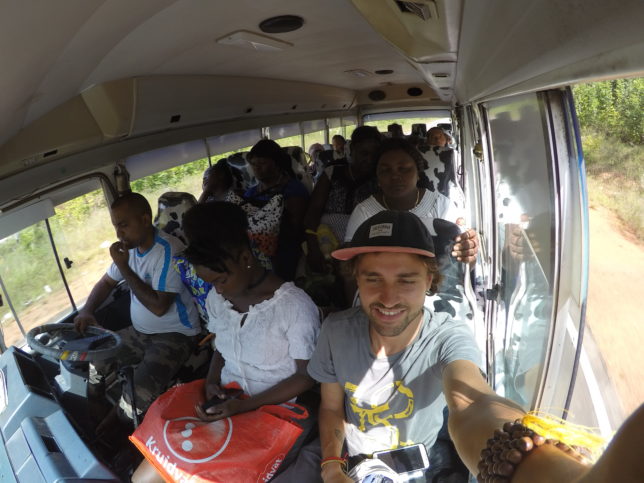 In the mini-bus terminal near the market 2 buses leave daily at 8AM and 12PM. You must arrive at the station at 6AM (opening hours) to get a waiting list number that will guarantee you a seat. I arrived by 7:30 and the numbers were already finished. I was lucky to have a last seat for the 8AM bus. This trip takes 2 hours and will cost you only 8.50 SRD (bit more than 1 USD)
Albina – Saint Lorent du Maroni (SPEED BOAT) – border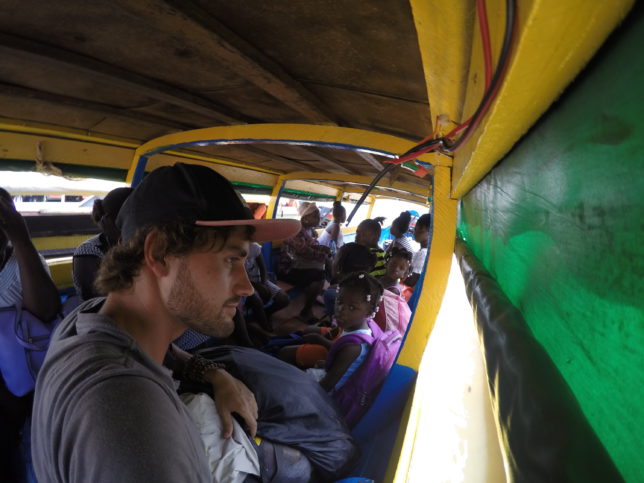 Plenty of speed boats leave when full to the other side. It is important to notice that most of the locals cross this border without going to the immigration. Don't be pressed by the boat drivers to step in the boat before getting to customs that stays half kilometer away from the bus stop. The normal price is 15 SUR or 3 EUR but I was ripped off by my own mistake. They charged me 60 SRD to drive me with the boat to the immigration, wait for my stamp and then cross.
French Guiana
Saint Laurent du Maroni – Kourou (HICHHIKING) – French Guiana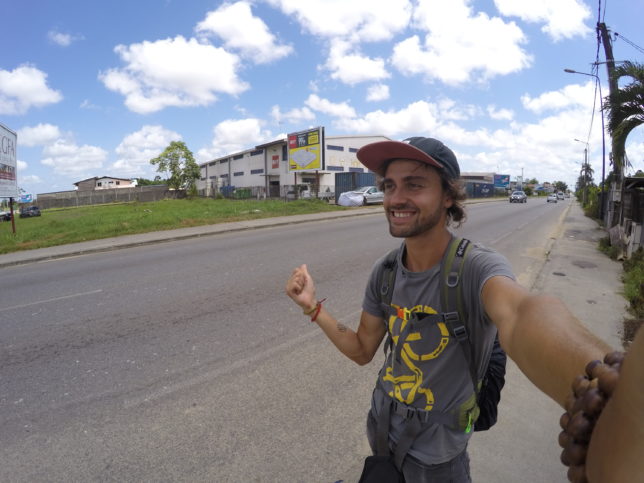 Hitchhiking in Guiana is quite simple. Transport is very expensive, for two hour trips you pay around 30 euros. I waited 30 minutes in Saint Laurent du Maroni to get a ride straight to Kourou with a French guy. This 200km trip takes  a bit more then 3 hours. In the city of Iracoubo there is a police check, be sure to stamp your passport at the immigration as soon as you enter French Guiana.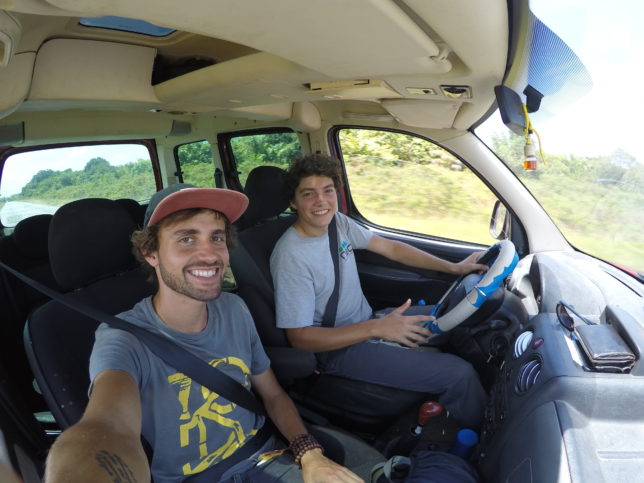 Kourou – Cayenne (HICHHIKING) – French Guiana
I got a lift with a friend of my host from couchsurfing that lives in Kourou but works in Cayenne. This trip is quite easy because a lot of people work in one city and live in other both way around. The distance is 60 km and takes a bit less than one hour.
Cayenne – St Georges (VAN) – French Guiana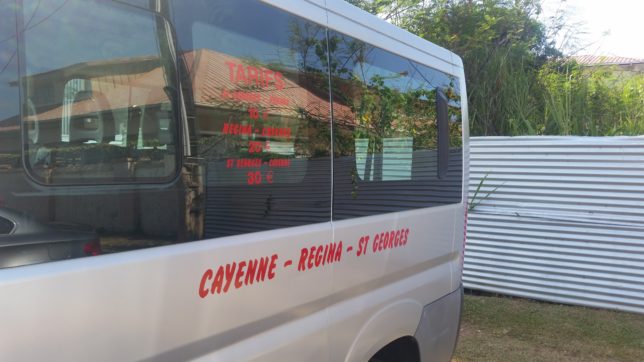 Since I was a bit in a rush because of a flight that week I decided to pay 30 EUR for this 2 hours trip to St Georges. The van leaves every 1 hour from Avenue de la Liberté in the city center. Vans going to Saint Laurent du Maroni also leaves from the same place. There is a passport control in the city of Regina, half way to the destination.
St Georges – Oiapoque (SPEED BOAT) – border
There is a standard price of 5 EUR or 15 BRL to cross the border to Brazil by boat that leaves when full. It is a 15 minutes ride.